The surveying and imaging of underwater assets is an essential tool for asset management and monitoring. A scanning sonar survey provides an accurate and repeatable methodology to measure, map and evaluate underwater assets and environments. Scanning sonar has many applications, including bridge surveys, and allows detailed inspections of a wide range of marine structures. The high-resolution scans can be used to model underwater environments and provide comprehensive scour surveys to assess flood damage and more.
Our 3D BlueView scanning sonar systems (1350kHz and 2250kHz) from Teledyne are tripod-mounted and deployed directly to the bed to capture georeferenced 3D point cloud data underwater, operating even in low visibility environments. The point cloud can be interrogated in the office by our experienced hydrographic surveyors, mitigating the risk and subjectivity associated with a traditional diver-based inspection.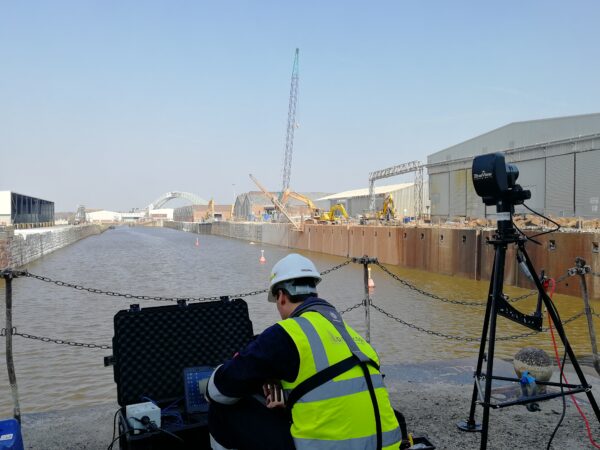 MARINE STRUCTURES
Our scanning sonar service has many applications including full bridge surveys and monitoring of jetty walls, piers, intakes, sluices, lock gates, and other marine structures and can be commissioned alone or as part of an integrated project to include the above water data.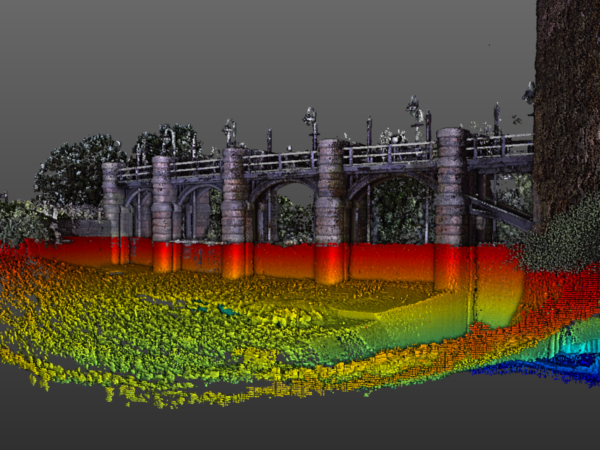 SCOUR AND UNDERCUT EVALUATION
We have developed versatile solutions, through the application of high-resolution scanning sonar technologies, to address the numerous challenges of bridge surveys and inspections. The scanning sonar system creates a comprehensive underwater model that can be used by local authorities and asset owners to quickly determine the extent of damage, for example following a flood event and longer term effects of scour. The system can be deployed even in fast-flowing waters and offers significant health and safety advantages to traditional diver-based inspections.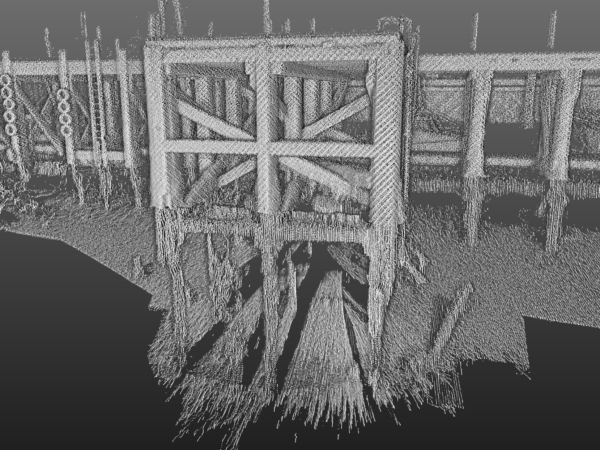 ABOVE AND BELOW WATER VISUALISATION
Our bathymetric surveys can be integrated with terrestrial survey data to provide a seamless 3D model of the above and below water environment. The above water data can be acquired using UAV, traditional survey techniques or marine and land-based mobile mapping.
The integrated 3D model can also be used as an accurate baseline for the monitoring of a marine structure over time. Our survey methodologies are repeatable and the high-resolution data allows for comparisons to be made between data sets to map any changes to the asset.