We have developed a selection of Mobile Ground Penetrating Radar (GPR) solutions to allow for rapid, efficient, and ultra-high-resolution data acquisition over large areas and in live traffic environments. For mobile GPR surveys, a multi-antenna GPR array is deployed to a Chapter 8 compliant survey vehicle, capable of covering a large swath in each pass. Data can be acquired at highway speed reducing and in some cases removing, the requirement for traffic management. A mobile radar solution minimises project costs, the time required on-site and the risk of personnel working in live carriageways.
Our mobile GPR systems have been developed by our in-house team of geophysicists and highways surveyors, in association with equipment manufacturers Kontur (formerly 3D-Radar) and Utsi Electronics, delivering rapid deployment, flexible configuration, and the highest available data quality.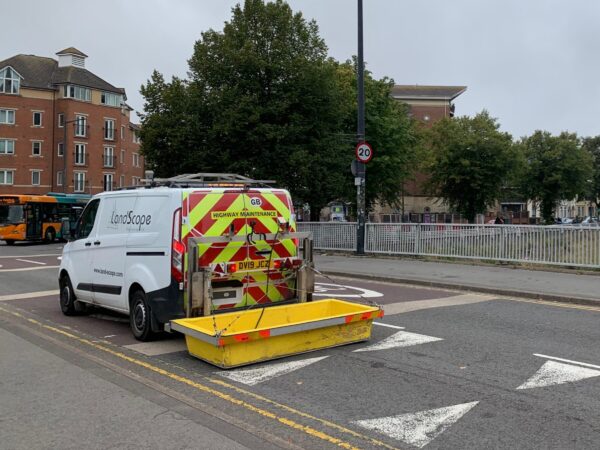 BENEFITS OF MOBILE GPR
Reduced Cost
Exceptionally High Resolution
Rapid: travelling at highway speed, mobile GPR can capture up to 50 linear km of high-resolution, high-accuracy sub-surface image data per day
No Disruption: reduces, and in some cases removes, the need for traffic management or lane closures minimising project cost and disruption
Boots off the Carriageway: reduces health and safety risk to survey personnel
Gap Free Coverage: overlapping swaths augmented with traditional hand-push GPR for a comprehensive survey coverage
Optimum Data Quality: multi-frequency solution to optimise depth resolution and penetration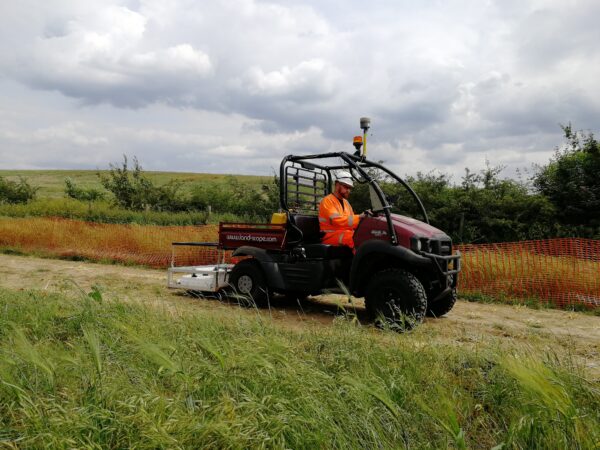 DEPLOYMENT OPTIONS
Highways Survey Vehicle: our custom-built Chapter 8 Highways Survey Vehicle (HSV) is configured for the deployment of our Kontur (formerly 3D-Radar) DXG-Series antenna array. To facilitate safe and effective highways working, the system can be controlled from within the cab whilst the vehicle is in motion.
Rough Terrain: just like our Highways Survey Vehicle, our rough terrain solution is a modular design that can incorporate either our systems from Kontur (formerly 3D-Radar) or Utsi Electronics allowing for a bespoke array configuration to suit site conditions and target requirements.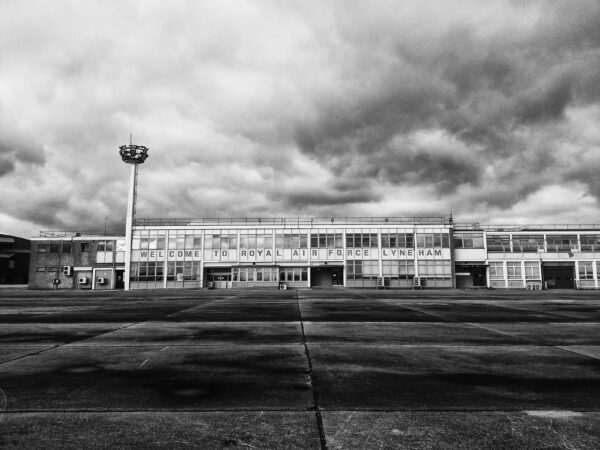 APPLICATIONS
Highways Survey: pavement construction analysis, material condition analysis (voiding, moisture, delamination/debonding)
Airport Runway Survey: condition assessment
Buried Utility Mapping: PAS128:2022 survey, route proving, reconnaissance survey
Site Investigation and Archaeology: underground infrastructure mapping, depth to bedrock assessment
Rail Survey: ballast condition survey, services mapping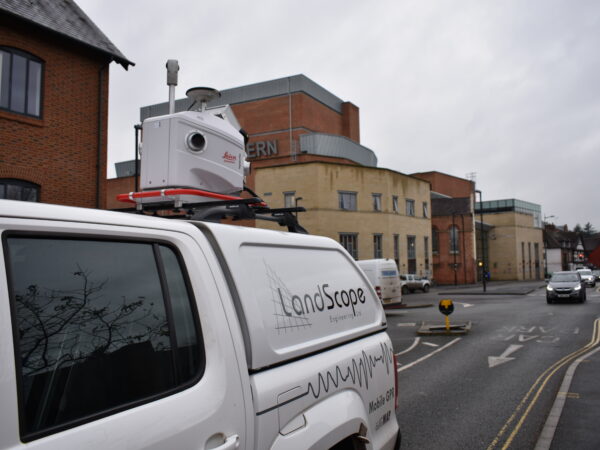 ACCURATE POSITIONING
For accurate data positioning, our mobile GPR solution is integrated with either a mobile mapping system or a dedicated GNSS aided IMU. The survey benefits from the highest order of trajectory in all environments, exceeding the accuracies set out in PAS128:2022.
Added Value: the photographic and LiDAR data sets captured by the mobile mapping system can be utilised for a number of purposes including topographical feature extraction, visualisation and asset management. We can supply the mobile mapping data in several formats including via U-GIS, our cloud-based underground GIS platform.
We have developed a cloud-based data delivery platform U-GIS, to provide our customers with an easy way to view, measure and model their above and below ground survey data in one place. Get the most out of your 3D mapping data with U-GIS. Cick to find out more.