LandScope's underground GIS platform, U-GIS, was developed in response to the increasing demand for an integrated georeferenced viewing, measurement and modelling platform that can house all above and below ground mapping data.
U-GIS takes standard survey deliverables and enables all data to be viewed in a single software package. There are cloud or desktop based solutions that can be accessed by anyone, anywhere, anytime without the need for specialist software. In addition to underground utility mapping data, it supports all known mobile, UAV, and terrestrial data, creating a comprehensive site record that can be used throughout a project's life cycle from design through to facilities management.
U-GIS is designed to work across all mainstream GIS vendor platforms including Bentley Systems, Esri, Map Info, Google Earth and QGIS.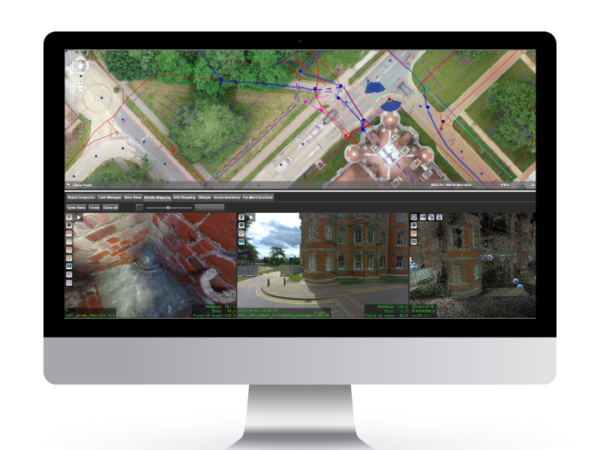 BENEFITS OF U-GIS
Added Value: get the most out of your existing 3D mapping data. Large volumes of data are captured within the field, and it is becoming increasingly difficult to display this wealth of data within traditional survey packages. This digital approach provides significant added value.
Cost Savings: a single centralised database that is accessible to all project stakeholders minimises the risk of duplicating tasks. All stakeholders have access to the most up to date site data.
Collaboration: housing all data within a single environment encourages collaboration and data sharing across departments. The additional intelligence can help to make informed decisions and avoid downstream variations.
Point and Click: the easy-to-use cloud-based interface means users simply click on an asset to access a wide array of metadata, photography, and legacy information.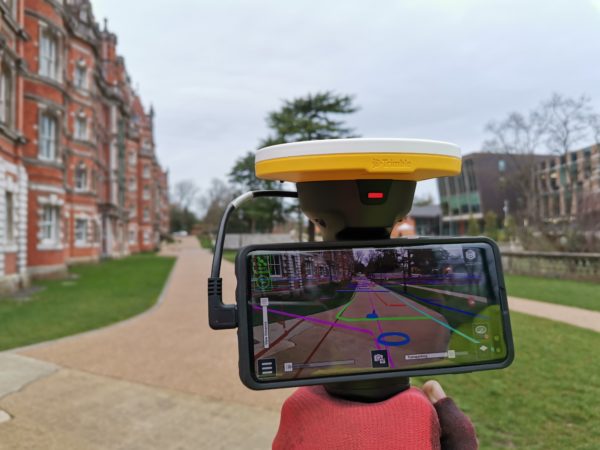 AUGMENTED REALITY
Advances in augmented reality (AR) technology means it is now easier than ever to visualise survey data in the field. AR takes all the data from our U-GIS platform and lets users visualise and measure on-site in real-time. Trimble's SiteVision pairs a centimetre accurate GNSS receiver with a high-end smartphone to allow 3D visualisation of integrated data sets including underground utility services, buried structures, manhole chambers, and full 3D models (above and below the ground).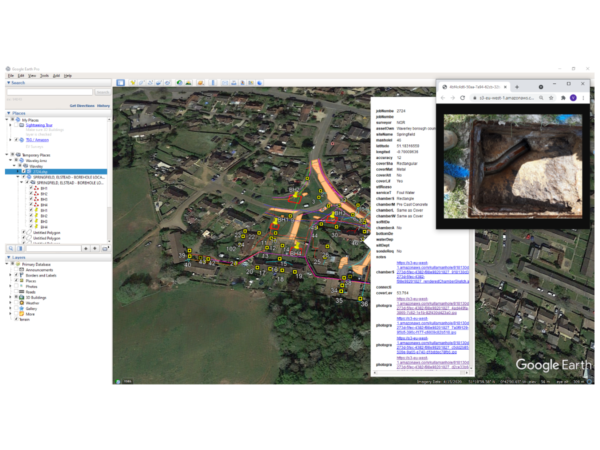 ELECTRONIC UNDERGROUND FEATURE RECORD
Our teams digitally record inspection chamber and manhole information directly into our bespoke Electronic Underground Feature Record (EUFR) app whilst in the field. In addition to standard photography, the app collects 360º downhole images, reducing the need to re-lift or re-survey manholes in the future.
All data is automatically saved and uploaded directly to the cloud meaning the office team have access to the information as soon as it is captured in the field. Using data from the EUFR, we can produce in-depth reports with a single click or export them into our U-GIS platform where users can simply click on an asset of interest to view the associated attribute and metadata. If you click on a manhole, for example, a detailed report will open showing the invert levels, pipe diameter, service type and connectivity. You can also view the traditional and 360-degree images of the chamber that were taken in the field.